Étiquetage
Têtes

d'étiquetage et monoblocs

automatiques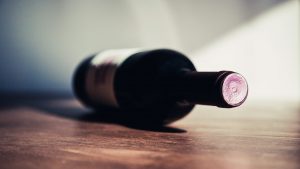 DIVISION
MÉCANIQUE
Nos étiqueteuses
Electron s'occupe de la conception, de l'implantation, de la vente et de l'entretien de machines étiqueteuses automatiques pour l'application d'étiquettes autoadhésives sur plusieurs types de produits conditionnés. Compactes et modulaires, elles sont réalisées avec des matériaux de haute qualité et équipées d'électronique de dernière génération et interface tactile de gestion qui rendent leur utilisation très facile et intuitive.
Chaque machine pour l'étiquetage et le capsulage a été conçue pour être adaptée facilement aux applications les plus diverses tout simplement en ajoutant d'accessoires et des fonctions optionnelles. Notre bureau technique est toujours à votre disposition pour trouver à chaque fois des solutions personnalisées selon les différentes nécessités.
TÊTES
D'ÉTIQUETAGE
Application d'étiquettes autocollantes
Les têtes d'étiquetage Electron, idéales pour être insérées dans des lignes ou des machines existantes, permettent l'application d'étiquettes autocollantes en rouleau jusqu'à 250 mm de hauteur.
Les modèles H20, H150, H250 sont adaptes pour l'application supérieure, inférieure et latérale d'étiquettes sur des surfaces planes et pour l'étiquetage enveloppant de conteneurs cylindriques et bouteilles.
De plus, elles peuvent être équipées d'un socle réglable en hauteur et profondeur pour s'adapter mieux à des lignes existantes.
FICHES
TECHNIQUES
Téléchargez les documents PDF en pièce-jointe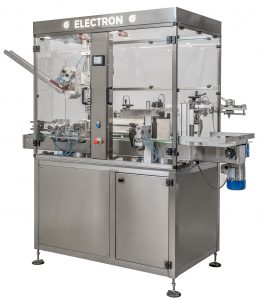 MONOBLOCS
AUTOMATIQUES
Capsulage et étiquetage automatisés
Les monoblocs de capsulage et étiquetage automatiques Electron, produits en plusieurs modèles, sont adaptes pour l'application d'étiquettes sur tous les conteneurs cylindriques, tronconiques et carrés.
Adaptes pour des étiquettes autocollantes en rouleau de hauteur différente, jusqu'au format maximum de 250 mm, ils sont compacts et réalisés avec une structure robuste en acier inox et équipés d'écran de contrôle tactile, d'un logiciel d'interface simple et intuitif qui permet de mémoriser les recettes et de changer de format rapidement et facilement.
Ils peuvent être également équipés d'une tête thermique ou rouleuse pour l'application de capsules de matériaux différents (aluminium, étain, complexe-aluminium et PVC). De plus, les monoblocs sont équipés de tapis roulant à vitesse variable avec dispositif de séparation et rangement des produits et aussi d'un plateau de collecte finale.
FICHES 
TECHNIQUES
Téléchargez les documents PDF en pièce-jointe


Les étiqueteuses/capsuleuses linéaires en acier inoxydable pour l'application d'étiquettes adhésives, contre-étiquettes et étiquettes pour goulot de bouteilles en verre pour l'embouteillage de vin, huile et liqueurs sont équipées de moteur pas-à-pas et inverter et sont adaptées aux activités de petite et moyenne production.
Tous les monoblocs, ainsi que les têtes d'étiquetage, sont équipés d'une électronique de dernière génération qui permet de se connecter au réseau de l'entreprise pour que les opérateurs puissent configurer rapidement la machine et en visualiser les paramètres. De plus, ils peuvent être utilisés aussi bien individuellement qu'être intégrés dans des lignes de production complexes.
Privacy Policy (art.13 D.Lgs. 196/2003):
Any personal information, provided to us on whatever basis, will be kept by information media in compliance with rights and safety measures as defined in the regulation in force about personal information protection and exclusively used to answer your enquiries (pieces of information, reservations, etc…) or processed to advertise the services and products offered by us to our customers. Anyone who has sent his or her own personal information to us (name, e-mail address, etc…) is entitled to demand information at any time concerning the data that we have stored about him or her as well as to require their rectification, update, integration or cancellation at the following e-mail address: info@electronweb.it (person in charge Sig. Gianni Vespi).