Labelling
Automated

machines and labelling

applicators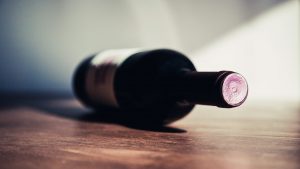 MECHANICAL 
DIVISION
Our labelling machines
Electron designs, installs, sells and provides maintenance services for automated labelling machines suitable for self-adhesive labels for different types of packaged products. Our compact and modular labelling machines are designed with proven-quality materials and feature state-of-the-art electronics and a touch-screen programming interface, for easy and user-friendly operation.
Each labelling and capsuling machine is designed to be easily adapted to a number of different applications just by adding optional accessories and features. Our design office is available at any time to help our customers finding tailored solutions based on their specific needs.
LABELLING 
APPLICATORS
Self-adhesive labels application
Electron's labelling applicators can be installed in-line or in existing machines and are suitable for the application of self-adhesive labels in rolls up to a height of 250 mm.
Available in versions H20, H150, H250, they are suitable for the application of top, bottom and side labels on even surfaces, and for wrapping labels on bottles and cylindrical containers.
They can also be delivered with a dedicated support with adjustable height and depth in order to fit into existing lines.
TECHNICAL 
DATA SHEETS
Download the attached documents in PDF format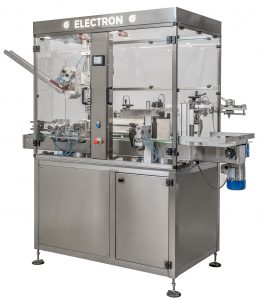 AUTOMATED 
MONOBLOC MACHINES
Automated labelling and capsuling
Electron's automated capsuling and labelling monobloc machines are available in different versions and are suitable for all cylindrical, conic and square containers.
Suitable for self-adhesive labels in rolls of different heights (up to 250 mm), our machines have a compact design featuring a durable stainless-steel iron body and come with a touch-screen control panel and a user-friendly interface in order to store recipes for a fast and easy format change.
Our machines can also feature a heating head or rolling tool for the application of capsules in different materials (aluminium, tin, polylaminate capsules and PVC). In addition, they are equipped with a speed-adjustable conveyor belt with built-in product separation and alignment tools and output tray.
TECHNICAL 
DATA SHEETS
Download the attached documents in PDF format


Stainless-steel automated linear labelling and capsuling machines for adhesive labels, back labels and wrapping labels on glass bottles for wine, oil and spirits are equipped with a stepper motor and an inverter and are suitable for small and medium productions.
All monobloc machines, such as label applicators, are designed with state-of-the-art electronics and can be connected to the corporate network to enable the staff to quickly set and display machine parameters. They can also be used as standalone solution or within complex production lines.
Privacy Policy (art.13 D.Lgs. 196/2003):
Any personal information, provided to us on whatever basis, will be kept by information media in compliance with rights and safety measures as defined in the regulation in force about personal information protection and exclusively used to answer your enquiries (pieces of information, reservations, etc…) or processed to advertise the services and products offered by us to our customers. Anyone who has sent his or her own personal information to us (name, e-mail address, etc…) is entitled to demand information at any time concerning the data that we have stored about him or her as well as to require their rectification, update, integration or cancellation at the following e-mail address: info@electronweb.it (person in charge Sig. Gianni Vespi).