ELECTRON

, TRAVAILLE
DEPUIS PLUS DE
L'AUTOMATISATION
INDUSTRIELLE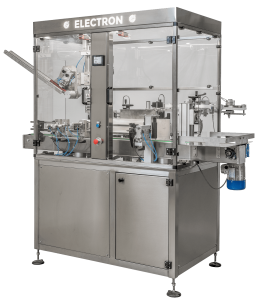 SOLUTIONS

D'AUTOMATISATION POUR
étiquetage, embouteillage et bouchage
Electron s.r.l. est une entreprise moderne et dynamique ayant son siège social à Foiano della Chiana (Arezzo) qui travaille dans le domaine de l'automatisation industrielle notamment liée à la production de vins et produits alimentaires conditionnés, en fournissant des machines pour la manutention, l'étiquetage, le remplissage, le bouchage et le capsulage.
Grâce à plus de vingt ans d'expérience dans le domaine électrique, Electron s'occupe également de la conception, la fabrication et l'entretien d'installations électriques, domotique, vidéo-surveillance et alarmes pour particuliers et entreprises.
Electron est une société en constante évolution visant à élargir ses compétences afin d'offrir un service qui soit le plus complet possible en Toscane, Ombrie et dans l'Italie centrale.
NOTRE CHAÎNE 
YOUTUBE
Regardez les vidéos sur nos produits
À travers notre chaîne YouTube vous pouvez connaître les caractéristiques de nos machines pour embouteillage, étiquetage, capsulage et conditionnement de vins et d'autres produits alimentaires et voir leur fonctionnement et leur mode d'emploi.
Privacy Policy (art.13 D.Lgs. 196/2003):
Any personal information, provided to us on whatever basis, will be kept by information media in compliance with rights and safety measures as defined in the regulation in force about personal information protection and exclusively used to answer your enquiries (pieces of information, reservations, etc…) or processed to advertise the services and products offered by us to our customers. Anyone who has sent his or her own personal information to us (name, e-mail address, etc…) is entitled to demand information at any time concerning the data that we have stored about him or her as well as to require their rectification, update, integration or cancellation at the following e-mail address: info@electronweb.it (person in charge Sig. Gianni Vespi).