Industrie
Technologies

pour le domaine

industriel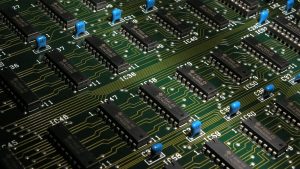 ELECTRON
POUR L'INDUSTRIE
Technologie et automatisation pour tout secteur de production
Le monde moderne est de plus en plus imprégné de technologie dans tous les secteurs. L'industrie 4.0 est déjà une réalité et un but à atteindre dans les plus brefs délais dans tous les domaines.
C'est pour cela que notre entreprise peut être considérée en tant que partenaire de référence en matière de technologie et automatisation par des opérateurs économiques et des industries dans tout secteur de production.
Depuis toujours au service du domaine industriel, Electron s'occupe de la partie des installations et incorporations électriques en fournissant un service global professionnel et qualifié.

NOS 
SERVICES
Moyenne Tension: conception, fourniture, installation et entretien de cabines et transformateurs pour usines et établissements industriels.
Basse Tension: conception, réalisation et entretien d'installations électriques et fourniture de coffrets de distribution d'énergie pour la production industrielle.
Économie d'énergie: installations photovoltaïques pour jouir des bénéfices économiques dérivant de la production et de l'autoconsommation d'énergie électrique ainsi que des bénéfices fiscaux sous forme de déductions.
Automatisation industrielle: implantation et entretien de systèmes d'automatisation industrielle, assistance pour machines et lignes automatisées, systèmes de contrôle et gestion de machines pour la production industrielle.
Installations technologiques et réseau de données: installations technologiques réalisées en cuivre et en fibre optique pour brancher et gérer des appareils informatiques.
Rénovation de machines industrielles et de lignes de production: modernisation des technologies et de l'organisation d'installations et machines afin d'améliorer les fonctions existantes et d'ajouter de nouvelles fonctionnalités.
Privacy Policy (art.13 D.Lgs. 196/2003):
Any personal information, provided to us on whatever basis, will be kept by information media in compliance with rights and safety measures as defined in the regulation in force about personal information protection and exclusively used to answer your enquiries (pieces of information, reservations, etc…) or processed to advertise the services and products offered by us to our customers. Anyone who has sent his or her own personal information to us (name, e-mail address, etc…) is entitled to demand information at any time concerning the data that we have stored about him or her as well as to require their rectification, update, integration or cancellation at the following e-mail address: info@electronweb.it (person in charge Sig. Gianni Vespi).